COMFY LODGE
& RESTFUL COTTAGE

COMFY LODGE & RESTFUL COTTAGE
The Western-style Comfy Lounge in Annex 1
and Restful Cottage in Annex 2 are guest buildings constructed during
the period of economic prosperity after the victory in the Russo-Japanese War.
Despite its shallow eaves and modest, refined ornamentation,
the design is typical of early 20th-century Western architecture,
with ornate ceilings, eaves, staircases, sash windows with storm shutters, and a magnificent gabled entrance.
With relatively few alterations, this is the best preserved
original building among the architecture at Fujiya Hotel.
*Room structures may vary.
One room is located on the second floor of the Annex 3 (behind Annexes 1 and 2) constructed in 1920.
HISTORIC
DELUXE TWIN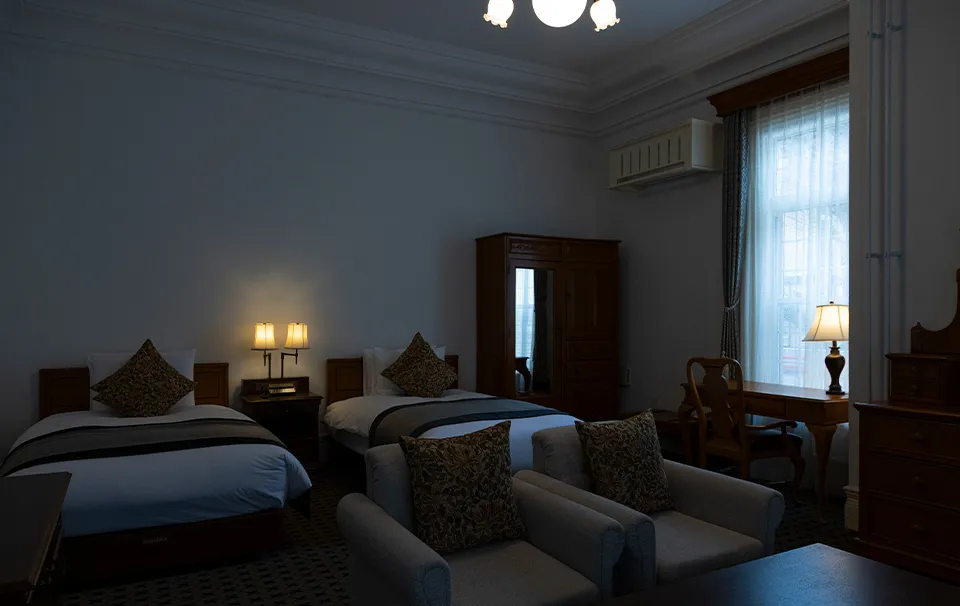 With its high ceilings and large windows, the spacious interior lets you break away from the hustle and bustle and relax both body and mind.
The tasteful chic, interior creates a sense of tranquility, elevating your mood.
*Interior design varies by room.
*This room type is available on both the 1st and 2nd floors. The Western-style building has no elevator, meaning access to rooms may require the use of stairs.
*When three guests stay in a room, an extra bed will be placed to the side of the regular beds.
Room size
41 ~ 49m²
Number of
rooms
10
Bed size
120cm x 203cm
(Extra bed 85cm x 205cm)
Max guests
2 ~ 3
Bed type(s)
2 single beds and 1 extra bed
* All rooms are equipped with a bath fed by natural hot springs.
* All rooms are non-smoking. Please use the designated smoking areas.
* Check-in after 15:00 / check-out before 11:00.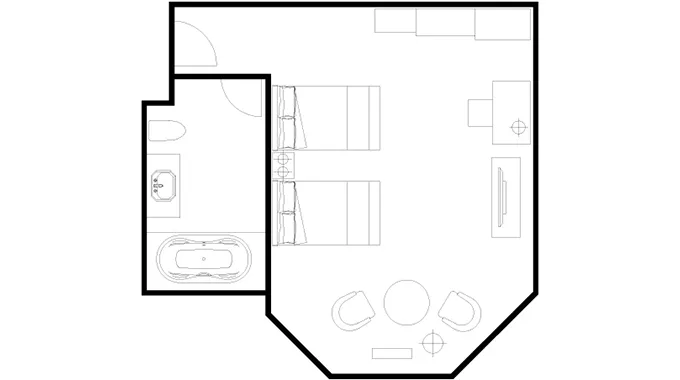 This is an example of the floor plan. The structure differs depending on the room.
AMENITIES
Air conditioner
Air purifier
Toilet
Bath & shower
Television
Telephone
Internet connection (WiFi)
Chromecast
Refrigerator
Coffee maker
Hair dryer
Safe
FUJIYA HOTEL's
original bedding
OTHER ACCOMMODATIONS
COMFY LODGE &
RESTFUL COTTAGE