FOREST WING

A new building was built on the hill where the Forest Lodge once stood in 1960,
a period of economic growth.
This is the newest of the guest buildings at the Fujiya Hotel
and the only one built when Kenkichi Yamaguchi managed the hotel.
Its minimalist exterior and uniform room layout are distinctly modern and clearly different
from the architectural style of the earlier Fujiya Hotel.
Yet it carries on the spirit of embracing the latest
to provide cutting-edge services tailored to the times.
TWIN GARDEN SIDE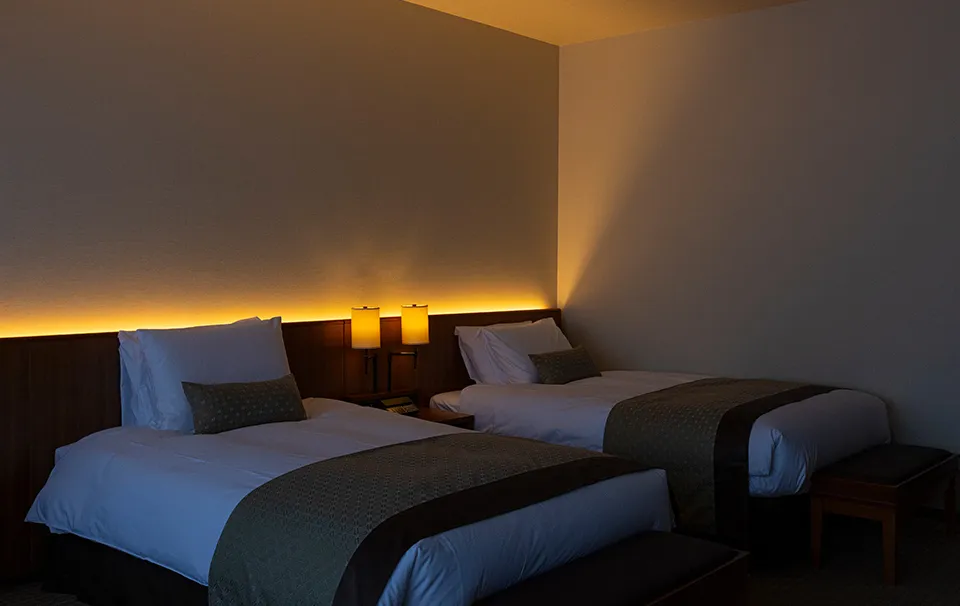 Savor harmony with nature in the Twin Room, which retains the tranquil atmosphere of the 1960s Japanese style.
The windows offer picturesque views. Indulge in a moment of tranquility as you sit on the sofa by the window.
Room size
41m²
Number of
rooms
19
Bed size
120cm x 203cm
(stacking bed: 100cm x 190cm)
Max guests
2 ~ 3
Bed type(s)
2 single beds
* All rooms are equipped with a bath fed by natural hot springs.
* All rooms are non-smoking. Please use the designated smoking areas.
* Check-in after 15:00 / check-out before 11:00.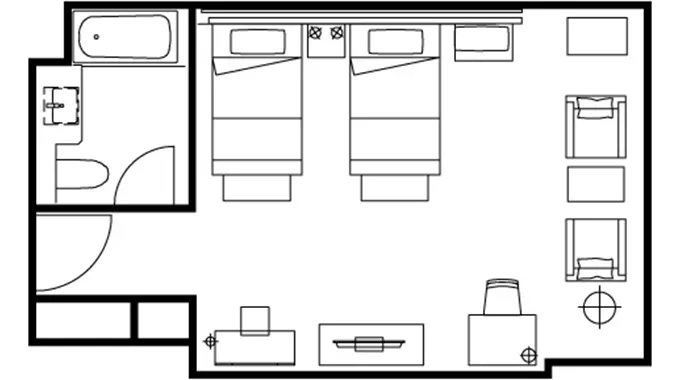 This is an example of the floor plan. The structure differs depending on the room.
AMENITIES
Air conditioner
Air purifier
Toilet
Bath & shower
Television
Telephone
Internet connection (WiFi)
Chromecast
Refrigerator
Coffee maker
Hair dryer
Safe
FUJIYA HOTEL's
original bedding
OTHER ACCOMMODATIONS
FOREST WING