FLOWER PALACE

Hana Goten, or Flower Palace, represents the culmination of Fujiya Hotel's
architecture and serves as a symbol of both the Fujiya Hotel and of Hakone.
Its unique design, with exquisite Japanese decorative arts, intricate roofing,
and a red balcony with high railings, strongly reflects the will of its designer, Shozo Yamaguchi.
True to the name "Flower Palace", each guest room is named after a flower,
and the lavish interiors and room keys are adorned with floral patterns related to the room name.
HISTORIC
DELUXE TWIN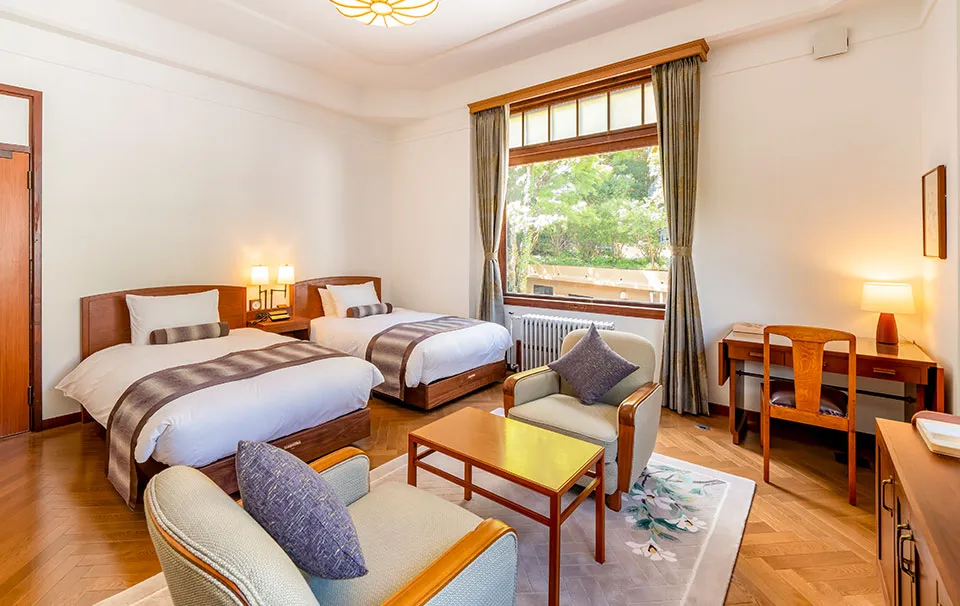 The quaint interior, registered as a Tangible Cultural Property, features parquet floors, wooden ceilings, and a blend of Japanese and Western design throughout.
The joy of admiring the floral patterns on the carpets and trinkets is something that can only be found here.
What's more, the decor, interior design, and view create a different vibe for each room. Discover a room you will love.
*When three guests stay in a room, an extra bed will be placed to the side of the regular beds.
Room size
36 ~ 49m²
Number of
rooms
33
Bed size
102cm x 196cm or 120cm x 203cm
Max guests
2 ~ 3
Bed type(s)
2 single beds
* All rooms are equipped with a bath fed by natural hot springs.
* All rooms are non-smoking. Please use the designated smoking areas.
* Check-in after 15:00 / check-out before 11:00.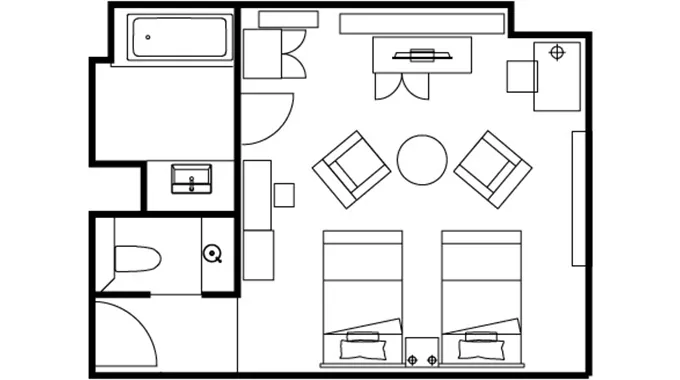 This is an example of the floor plan. The structure differs depending on the room.
AMENITIES
Air conditioner
Air purifier
Toilet
Bath & shower
Television
Telephone
Internet connection (WiFi)
Chromecast
Refrigerator
Coffee maker
Hair dryer
Safe
FUJIYA HOTEL's
original bedding
OTHER ACCOMMODATIONS
FLOWER PALACE